Residential
You own your home, why rent your power?
The recent drop in solar equipment costs have made a solar energy system more affordable than ever. Our residential sales teams are here to walk you through each step of the process. We'll be happy to provide you with a free quote and design the system that's right for you.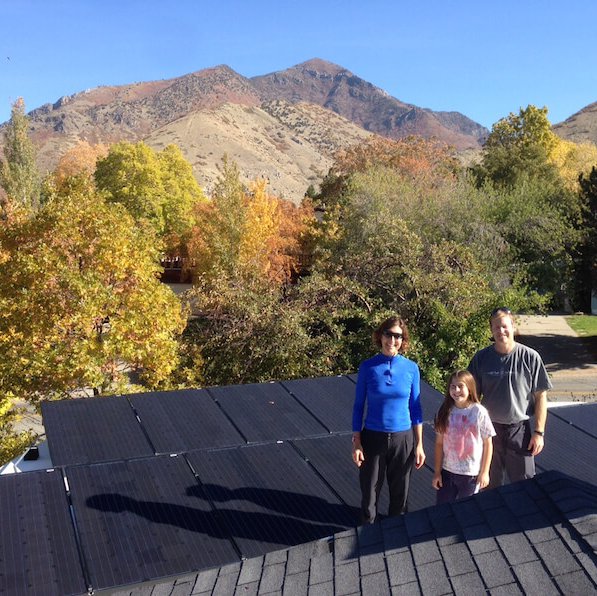 Bard Eastman and Tom Kimbrough
SALT LAKE CITY, UTAH
"It's the right thing to do. It's easy, and it doesn't require a lifestyle change. I should be making other lifestyle changes, but I still take airplane rides, and I still drive my car that uses gas, but putting panels on my house (was so easy) it was sort of a no brainer. And also I wanted to do it while there were still tax credits."
The Moyer's
SALT LAKE CITY, UTAH
The Creative Energies Solution
The Moyer's wanted to offset as much of their historic usage as possible within their budget. After performing a site visit, including a shade analysis and assessment of azimuth choices, the carport rooftop was selected as the array location.
The carport roof is a membrane roof, so a standoff racking solution was utilized, keeping the weight of the array as low as possible.Ten 250 watt solar panels with Enphase micro-inverters were installed facing south at a 10-degree tilt. The system also included web based system monitoring.
Battery Storage
We offer several solutions for adding energy storage to a solar power system. On-site energy storage can provide energy back-up or can provide energy management services such as peak demand reduction, time of use management, or self consumption.
Solar Education
01
Cut Your Electricity Costs Up To 100%
Reduce the amount of energy you buy each month. Every kilowatt-hour your solar system produces is one you don't have to pay for. Going solar will give you huge savings on your electricity bills.
02
Lower Prices
The recent drop in solar equipment costs have made a solar energy system more affordable than ever. In areas with higher utility rates, an average system will pay for itself in 6 to 7 years. During the system's expected life of 25 years, it will pay for itself several times over.
03
Savings and Incentives
Federal Solar Tax Credit (ITC)
The United States government offers a 30% Solar Tax Credit. This credit applies to the total cost of your solar installation and applies to both residential and commercial projects. This tax credit will be 24% in 2020.
State Tax Credits and Local Incentives
Some states and some utility companies offer their own tax credits or incentives. Our technical sales team stays up-to-date on the latest incentives to get you the best deal.
04
Financing Your Solar System
Many customers choose financing as a way to spread the project cost over a longer period. By investing in your system over time, you get all the benefits of going solar, as well as the advantages of financing. In some areas, your monthly payments will be lower than your utility bill savings.
05
Battery Storage
Creative Energies offers battery Storage options from Tesla and LG Chem and StorEdge.
06
Residential Off-Grid Solar
Off-grid home solar is the best choice for anyone without access to the electrical grid. Using a battery bank, your solar system stores energy throughout the day and is then on-call when the sun goes down. With some expert planning from our engineers we can make your off-grid cabin dream a reality.These systems take careful planning, a thorough design, and ongoing maintenance.
Our Referral Program
Do you believe in the benefits of solar to protect the environment with the added benefit of saving money as a homeowner? Spread the word through our referral program! Share with your neighbors, friends, and family about switching to solar with Creative Energies. We offer $400 when someone commits to solar with us.
If you prefer, your referral can be redirected to our Give Back Program where a family in Haiti, Guatemala, or Swaziland will receive a solar home kit. For more information, see our Give Back Page! Contact us for more information on this solar Give Back Program.
FAQ
01
How expensive is a solar power system?
The cost of a solar power system varies depending on the size of the system that you choose and on site conditions. Low energy consumers will not need a large system. The more energy you use, the larger the system will need to be. Offsetting 80% of the energy of an average family home will range from $16,000 to $24,000 before incentives.
02
How long do solar panels last?
Most solar panels are guaranteed to last 25 years and are expected to last even longer. The new technology in these panels has not been around long enough to really see the extent of their life. Here in our office we have solar panels that were made in the 1970's that still work! Improved design and manufacturing should allow today's panels to outlive most of us.
03
Do you do battery back up?
Yes we do! We use the Tesla Powerwall and the LG Chem/StorEdge system. Battery systems require careful planning, a clear understanding of customer objectives, and a mastery of the regulations and electrical code that governs them. This is exactly what we do.Our project planners can help determine an approach to energy storage that meets your needs.
04
How much maintenance does my solar energy system need?
Typically your system is nearly maintenance free. All of our systems include some type of monitoring that allows you and us to view the system performance and spot a malfunction early. An annual visual inspection is wise. Occasional cleaning can help system efficiency but is generally not necessary. It's okay to leave snow on your system during the winter months.
05
How heavy is a solar panel?
An average solar panel is about about 44 pounds or 4 pounds per square foot. This extra weight is typically not an issue on most roofs. During a site visit our technical sales team will check your roof structure to be sure that it is in good condition.
06
What does photovoltaic (PV) mean?
Photo = light, voltaic = electric. Photovoltaic (PV) panels turn light energy directly to electric energy. No heat capture, fluids or pumps involved. Ultra-pure silicon, when exposed to sunlight performs the magic.
Residential
Success Stories
Be a part of our inner circle