What We Do
Creative Energies is a community of adventurous solar craftspeople who care deeply about our customers and the environment. We are engaged in our communities, live healthy outdoor lifestyles, and try to balance the needs of work and family. We practice what we preach by operating out of Net Zero Energy offices that utilize energy efficient and passive designs, and photovoltaic systems. Many of our staff have renewable energy on their own homes. Creative Energies is devoted to the mountain towns we work, live, and play in. We have come together to do our part in sustaining this amazing world we share.
19 years of Solar Experience
Our company's history began in 2000 when Creative Energies' founders, Andy Tyson and Scott Kane noticed a problem. Climate change and regional air quality were becoming worse and our country was hooked on foreign oil. As former environmental educators with the National Outdoor Leadership School (NOLS), Scott and Andy knew it was time to change our nation's energy production methods.
Net Zero Offices
Creative Energies offices in Wyoming and Salt Lake City are both zero net energy. In Salt Lake, we have converted this former print shop to be a modern and energy efficient office and warehouse. Lighting upgrades, improved insulation and a 25kW solar power system combine to allow this 50 year old building to provide all of its own electricity.
Our office in Lander, WY is entirely zero net energy. Due to energy efficient and passive solar design, a ground source heat pump for heating and cooling, a solar hot water system and a 3kW solar PV system, the building produces more energy than it uses annually. Water conservation and healthy indoor environments are also priorities in our buildings.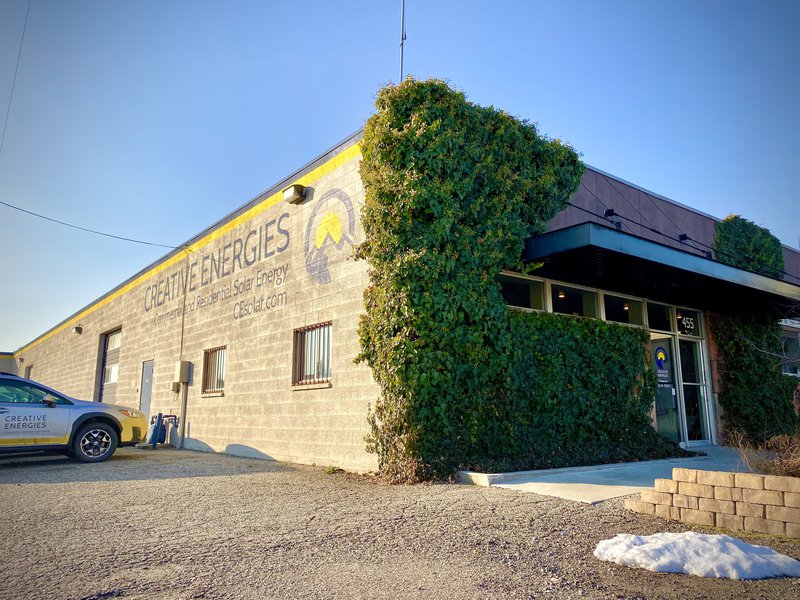 Be a part of our inner circle