Barron & Petroff Residence
Jackson, WY
Customer Comment:
"I want to compliment the installation work performed by AJ and Don this week at our home. They were super and want you to know that RuthAnn and I are impressed with their professionalism and thoroughness. Thank you!"
The Challenge:
Jackson Mayor Mark Barron and his wife, Wyoming Representative RuthAnn Petroff (House District 16) contacted Creative Energies to design and install a grid tie solar electric system on their Jackson Wyoming home. Their goal was to produce all of the electricity their home consumes annually. The house has a flat sips panel TPO roof at the base of Snowking Mountain.
The Creative Energies Solution:
We evaluated the site for solar resources, reviewed electrical consumption history, and then designed a 5.9 kW grid tied array forecasted to produce around 8,650 kWh per year or 23.7 kWh per day. This offsets 100% of the home's electrical consumption at its current usage rate.
The array design is two rows of panels facing south tilted at 30 degrees. Standoffs were used on the flat roof to elevate the array to compensate for the snowy conditions in Jackson Hole, Wyoming and Intermountain Roofing flashed the penetrations to preserve the roof warranty. The local utility, Lower Valley Energy, provided a net metering contract and switched the electrical meter to a bi-directional recording smart meter.
The System:
5.9 kW residential grid tie photovoltaic system consisting of 24 REC 245W solar modules.
24 Enphase microinverters for panel output maximization.
Envoy web-based panel-level production monitoring allows live real-time system monitoring.
Want to learn more about Residential Solar?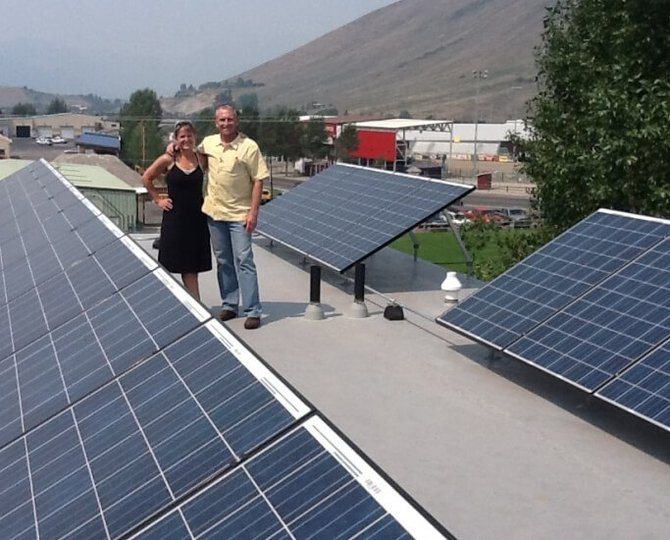 Stay Updated On Solar News